Red Hot for 2023: Barbie and Ken Costumes!
Barbie was the big movie during the summer of 2023. Keep fighting the patriarchy this October by dressing up as Barbie for Halloween! Group costume ideas based on the popular pink princess include different iterations of both Barbie and Just Ken. And Allan. Here are some choice options for dressing up as Barbie.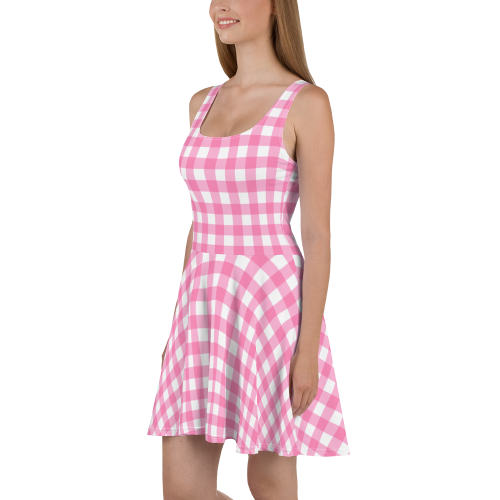 Dress up to fight the patriarchy with this darling pink gingham pattern skater dress. Note that this is a polyester/spandex blend garment; it is not made of true gingham fabric. Make sure you place your order for this custom item in time -- this is only printed, cut, and sewn once you place your order -- it's no Amazon Prime same-day item.
One of the most iconic fashions from the Barbie movie is the cowgirl and cowboy outfits both Barbie and Ken sport once they reach the real world. You too can blend in to typical American life when you dress up in this hot pink costume that includes a cropped vest, bell-bottom pants, and a cute little neck scarf. Hat not included.
Ken blended into the patriarchy with this elaborate cowboy-inspired look. This outfit includes the black fringed top, matching black pants, belt, cowboy hat, and scarf.
Rock the '80s look with this high hipped hot pink leotard with a bitchin' abstract pattern. Note that this leotard does NOT include the compression shorts shown in the product photo.
This costume is perfect if you're heading out to Beach, and especially if you're going to be roller-blading once there. The Ken-inspired neon outfit includes the shirt with vest, matching shorts and visor, plus knee pads and wrist bands. Roller blades not included.
Allan's iconic look from the movie, besides a somewhat plastic-looking face, was this cheerful and colorful striped button down shirt. Pair this with some blue shorts (not included) for an easy, if somewhat creepy, Barbie-themed costume.
Barbie in a Box Costume Add-On
Dress up in your favorite Barbie outfit and then don this wearable box on top to be dressed up as boxed up Barbie. You're heading to Barbieland for sure if you're wearing this one! No real world for you. And that means no patriarchy. Good stuff!
All of the below costumes are for the BOX ONLY, no dress or other costume elements are included. These are also RED HOT for 2023 and will probably sell out or possibly be available at inflated, "collectible" pricing. Don't miss out!