Empowered: Rosie the Riveter Halloween Costume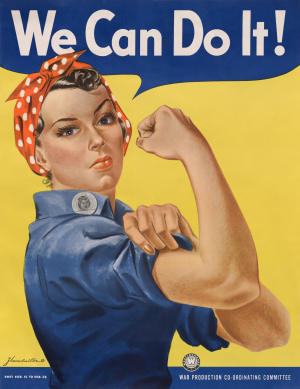 Copy the look of the famous "We Can Do It!" propaganda poster with this empowering costume. Dress like World War II cultural icon Rosie the Riveter, a timeless symbol of the inspiration of wartime effort.
The iconic poster artwork by Howard Miller was commissioned by the Westinghouse Company to inspire their wartime factory workers. Originally only displayed on company grounds for two weeks during February 1943, the poster came to wider fame much later when it was rediscovered in the 1980s.
The illustration features a young working woman. She wears a denim shirt, and bandana of red with white polka dots in her hair. She holds up a fist and shows off a muscular arm, depicting the strength and resilience of workers during the wartime effort at home.
Rosie the Riveter Costume
The name "Rosie the Riveter" originated with a 1942 song about a hard-working factory assembly line worker who did her part to help in the war effort at home.
Today the idea of Rosie the Riveter is seen as a symbol of American feminism and women's economic status.
This costume takes the name of the icon and the image from the famous poster to recreate an iconic look of strength and patriotism. Dress as Rosie the Riveter with this complete outfit that includes a denim-look jumpsuit, red belt, and polka-dot head scarf. Strike the famous pose and there will be no mistake who you are dressed as for Halloween. This outfit is also perfect for wearing to women's issues marches, parades, and events.